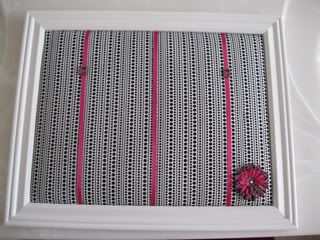 I whipped these babies up the other day in my kitchen.  I needed a cute and inexpensive gift to give a co-worker for her baby shower.  I also wanted one for myself since I have already lost several of my daughters barrettes.  The frames were on sale at Michael's for $4.oo each.  The black and white fabric was from a bundle of quilting squares I had leftover from my desktop flip calendars.
This fabric was from the back portion of my daughter's bed skirt.  Her bed is up against the wall so you don't see it anyways.  This one was the first one I made and I didn't notice that the fabric had become crooked.
I love the simple embellishments on each of them and I hope my co-worker does too!